Sales – Rental – Maintenance
RAIL-ROAD SHUNTERS
Rental and Maintenance After-sales service Full Services
TRACFER's fleet of TRACTO and SOCOTRAC rail-road shunters from 11 to 38 tonnes is renewed constantly with vehicles produced by our workshops. The company thus offers a wide range of machines to meet your various rail handling requirements. Renting can fix and optimise your costs through short- or long-term contracts. The "full service" solution secures your rail and industrial operation.
Sale of Shunting Machines
The TRACFER experience in rail traction and its understanding of the everyday challenges of industrial operation back you up in your investment. Product definition, optional solutions, configurations of our SOCOTRAC range and a direct relationship with the Design Office and the workshops enable our customers to fine tune their investment in equipment recognised for its reliability and robustness.
Presentation of the Range
Explore our Range of Rail-Road Shunters.
1 Electric Range
Explore our Range of electric shunters.
3 Diesel Ranges
Explore our Range of Rail-Road Diesel shunters.
Options
Numerous options are available.
Presentation at the Mecateameetings show of the new Tracfer range, the "Monstertrac". With its futuristic design, it will be the indispensable tool for moving the heaviest convoys.
Thank you to everyone who took the time to visit us during the show. Your interest and support are the key to our success and motivation.
Don't forget to follow us on Linkedin to stay informed of our latest progress and our future projects!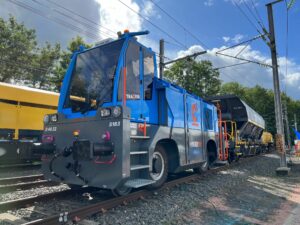 About us
Born in 2008 after SOCOFER, a major player in the supply of railway maintenance rolling stock, bought out the FERWAY Rail-Road business and expertise, in association with a group of enthusiastic investors, TRACFER is today the must-have partner in this highly-specialised field of rail traction. Expert in supplying Rail-Road shunters and very familiar with the constraints in industrial rail operation, TRACFER is a reasonably-sized firm capable of studying all your needs and providing you with customised solutions.
TRACFER moved to a larger site in 2017 in line with the development and growth of its service (maintenance, express or heavy repairs, parts storage and production).
Keen to bring its customers solutions that best meet their needs, TRACFER organises its activity into three areas :
Information?
Please do not hesitate to contact us for further information.